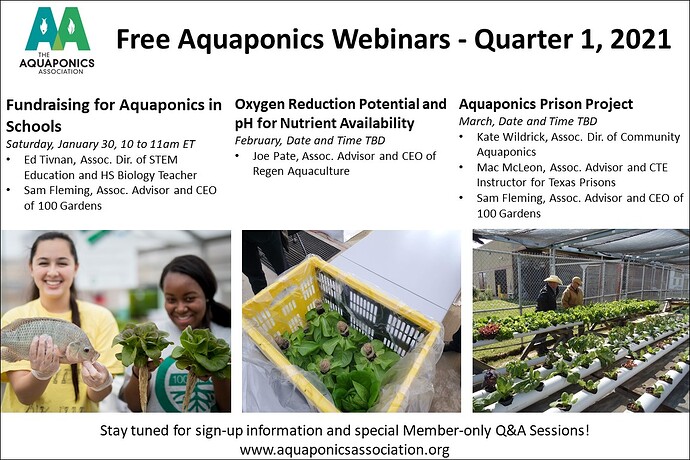 The Aquaponics Association is excited to announce a new, free monthly webinar series to improve our growing, expand opportunities, and reach new growers.
Webinars will cover topics from all fields of aquaponics, including Commercial, Research, Community, STEM Education, and General Growing.
The first webinar will be Fundraising for Aquaponics in Schools, presented by Ed Tivnan, Association Director of STEM Education and HS Biology teacher; and Sam Fleming, Association Advisor and CEO of 100 Gardens.
For February, Association Advisor Joe Pate will present a webinar on the effect of Oxygen Reduction Potential and pH on nutrient availability in aquaponics and hydroponics. And in March, Association Director of Community Aquaponics Kate Wildrick will host a webinar on the Aquaponics Prison Project.
All webinars will be free to the public and also include a special Member-only Q&A session. All webinars will also be available in perpetuity to Association Members in our Member-only video bank.
Stay tuned for more details and sign-up information.
Interested in becoming a Member? Check out our Membership Plans!
The Aquaponics Association is a Member-based 501c3 nonprofit that expands the practice of aquaponics through education, advocacy, and connection.