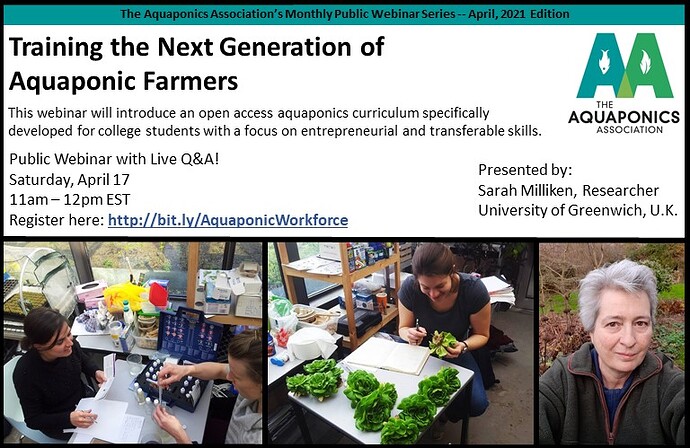 Our monthly webinar for April is "Training the Next Generation of Aquaponic Farmers" from Researcher @SarahMilliken .
The Webinar will take place live, Saturday, April 17 at 11am EST.
Register here: http://bit.ly/AquaponicWorkforce
Ms. Milliken will introduce an open access aquaponics curriculum, [email protected], specifically developed for college students with a focus on entrepreneurial and transferable skills. As soilless food production technologies become increasingly important in light of climate change and the threat of food insecurity, there is an urgent need to provide an appropriately trained workforce.
The Webinar is free to the public during the live broadcast. The Webinar will remain available for free, in perpetuity to all Aquaponics Association Members in the Member's Area of our Community Site.
Special thanks to @Eddytiv, Association Director of STEM Aquaponics, for organizing the webinar.